New Treatment for Plantar Fasciitis at Marshall Tulsa Chiropractic
Marshall Tulsa Chiropractic today announced that it has implemented the latest therapy used to treat plantar fasciitis known as percussion therapy.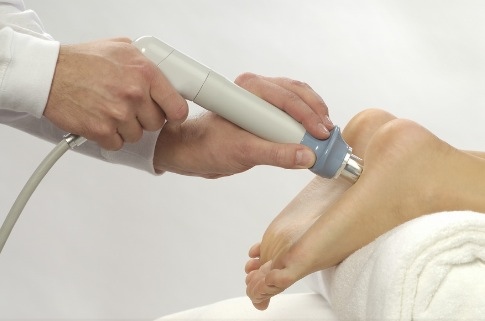 WebWire ( Press Release Image: http://photos.webwire.com/prmedia/26104/196518/196518-1.jpg )
WebWire is not affiliated with Diagnostic Imaging Systems, Inc. or ChiroXrayDeals.com

Marshall Tulsa Chiropractic today announced that it has implemented the latest therapy used to treat plantar fasciitis known as percussion therapy. Percussion therapy feels like massage therapy on the foot. The sensation is very comfortable and actually feels good. Most patients get up after a session and feel much better. After the fascia is loosened up from the percussion therapy Dr. Marshall will administer a chiropractic adjustment to the foot. After the treatment the patientís foot is in proper alignment and the muscles and fascia associated with the pain are relaxed.
Plantar fasciitis is a medical condition that can be extremely painful in the feet. It can manifest pain in one foot or both and is one of the most common causes of heel and foot pain. Most people complain of pain from walking, running or when first standing up. Many patients explain to doctors that the pain can be worse in the morning or after sitting for a long period of time. The pain is usually described as sharp and stabbing, but can sometimes feel very tight and hurt with each step. This condition can come on slowly overtime and is usually not improved until treatment is rendered.
The main cause is when the plantar fascia, a thick band of tissue on the bottom of the foot, becomes very tight and inflamed. Running, exercising, poor shoes and support are just a few things that can cause this fascia to get tight and painful. Many runners are treated for this condition simply because of the repetitive nature of their training program. Shoes like high heels or older shoes that have lost their support can also inflame the fascia of the foot. New shoes or even arch supports can make a big difference with foot pain and alignment.
The best approach to stop plantar fasciitis is to start with a conservative and non-invasive one. Sometimes simply stopping the cause can make all the difference in the world. But when thatís not an option treatment can be administered. Treatments such as stretching and orthotic shoe inserts can sometimes be useful. Many times the best approach is to get help at a physicianís office such as a chiropractor.
Dr. Marshall at Marshall Tulsa Chiropractic has been treating patients with plantar fasciitis for over ten years now. Adjusting the foot can relieve pain and the pressure that causes foot pain. To learn more about this new percussion therapy for relieving foot and ankle pain contact Marshall Chiropractic at (918) 494-0929
"We're trying to take the office from a pain clinic to a wellness center," she said. "Most back pain is from being overweight."
Nadler hosted a free Health Fair on March 18 featuring spinal exams, postural analysis, nutritional counseling, computerized body mass index tests and weight management counseling, in addition to blood pressure, sugar, and cholesterol screenings by the staff of Salem County Health Services.
Nadler said patients can come in anytime for preventative exams and nutritional counseling.
"Preventative health is very important," he said. "You go to the dentist to have your teeth checked preventatively. It's good to come in and have your spine checked and discuss nutrition so you can get into healthier habits.
" During his 33 years in the practice, Nadler has seen many changes and advances in the chiropractic field.
"Impulse adjustment uses a computer to measure bone motion," he said, holding an instrument resembling a tuning fork. "It allows the bone to slide right back into place."
Nadler explained the pronged tool uses pulses or thrusts to move the bone back into alignment, and is easier than making adjustments manually.
"So for patients who don't want to get 'popped and cracked,' this is perfect for adjusting the spine," Nadler said. "And it takes just a few minutes."
Nadler still does it the old fashioned way, which many patients prefer.
"Manual adjustments release gases from the joints," he explained. "That's what makes the popping noise. It's not the bones breaking or cracking."
He said the method deals with specific adjustments in the spine which are safe and easy for a qualified chiropractic.
"I went to four years of medical school, four years of chiropractic school and did a one-year internship," he said. "So it's safe for chiropractors to do."
Ball said she hopes people will rethink their pain management and try a holistic approach such as chiropractics.
"All pains medications do is mask the problem," she said. "Seeing a chiropractor takes care of the problem."
Kelly Roncace may be reached at kroncace@southjerseymedia.com. Find the South Jersey Times on Facebook.